SKINCARE THIS SUMMER
This summer is sunny and very hot compared to others, so you should prefer light-textured products that are pleasant to apply in the morning and evening.
111SKIN Regenerative collection energises the skin, reduces puffiness, rejuvenates and gives a cryo (cooling) effect. The products in this range are ideal for athletes, young people and people prone to oedema.
Cryo Pre-Activated Toning Cleanser - cleanser with double action, simultaneously cleanses and tones the skin.
Cryo Sports ATP Booster - revitalises tired and weakened skin. Just a few drops of this concentrated formula is enough to smooth, firm and improve the appearance of open pores and uneven skin texture. Mimicking the effects of cold on the complexion, it promotes oxygen access and cellular activity. Revitalises weakened skin, leaving it toned, radiant.
Sub-Zero De-Puffing Eye Duo - Double applicator formula targets dark circles, puffiness and shiny eye area. Step 1 is a serum that reduces puffiness, prevents puffiness and brightens the skin. Step 2 is a nourishing cream that strengthens the damaged eye area.
Oxygen Express Mask - refreshing, replenishing, energising. Using oxygen, ATP and 5 active complexes, the mask stimulates cellular processes, tones, tightens and improves skin quality. Pores are reduced and the complexion becomes smoother.
Sub-Zero De-Puffing Eye Mask - a fatigue, dark circles and puffiness reducing eye mask. This cooling hydrogel mask contours the eye area and infuses the skin with active ingredients to prevent puffiness and dark circles. Amplify the effects by storing these masks in the refrigerator for best results.
Sub-Zero De-Puffing Energy Facial Mask - reduces puffiness, rejuvenates tired complexion. An energising, therapeutic face mask that delivers best results in 20 minutes.
111SKIN Reparative collection is unique in skin repair, scar healing, moisturising. The products of this line achieve excellent results after surgery, laser procedures, post-acne scar healing.
Energising Essence - Energising Essence provides fast-acting antioxidant properties, tones, rejuvenates, heals, while preparing the skin for future product applications. A truly unique essence that every skin condition needs during the summer season.
Y Theorem Repair Serum NAC Y2 - Y Theorem Repair Serum includes the unique NAC Y2 formula to protect and repair the complexion, visibly reducing the appearance of fine lines and wrinkles. Originally created to treat trauma after surgery. Its restorative action helps to reduce redness and soothe irritated skin by providing it with rejuvenating ingredients. The NAC Y2 formula provides the skin with the conditions for enhanced collagen, elastin and hyaluronic acid production.
Y Theorem Repair Light Serum NAC Y2 - This serum delivers all the benefits of the original Y Theorem formula in a gel-like texture. The added brightening agents help to prevent signs of hyperpigmentation and even skin tone. The serum is ideal for treating acne scars. The lightweight serum promotes the production of collagen and hyaluronic acid, reducing the appearance of fine lines and wrinkles. Its lightweight formula hydrates the skin without feeling heavy.
Space Defence Bright Eye Lift Gel NAC Y2 - Eye Lift Gel is a powerful under-eye treatment that reduces the appearance of fine lines, wrinkles and dark circles while keeping your under-eye area hydrated. Space Defence Eye Lift Gel contains a powerful formula of NAC Y2 to help rejuvenate the delicate skin around the eye area.
Y Theorem Bio Cellulose Facial Mask - to repair, protect and heal the skin. A healing, rejuvenating home facial mask treatment to soothe, protect the skin barrier. Soothes wounds, scars and inflammation. Saturates the skin with active ingredients.
NAC Y2 Recovery Mask - Nourishing. Healing. Strengthening. This rich mask with a skin barrier-building complex reduces irritation and redness while protecting the skin from all external aggressors. Perfect for application after active sun exposure to repair, heal and moisturise the complexion.
111SKIN Radiance collection. Thanks to Damask Rose extract and 24k pure gold, these products have an anti-inflammatory function, moisturise and give the skin a long-lasting radiance.
Rose Gold Radiance Booster - hydrates, brightens the complexion all day long.
Rose Quartz Exfoliating Mask - cleanses, minimises, tightens pores and reduces signs of hyperpigmentation. Leaves skin purified, radiant, illuminated.
Rose Quartz Brightening Facial Treatment Mask / Rose Gold Illuminating Eye Mask - simultaneously illuminates and soothes the skin, giving it the radiance needed for important events. Used by models, celebrities and influencers, this mask is a must-have skincare essential for everyone.
The Radiance Concentrate - a 7-day treatment programme designed to brighten the skin. The Radiance Concentrate works to remove dead skin layers and brighten the complexion, reducing signs of fatigue with a blend of active ingredients. +27% increase in skin radiance.
Hyaluronic Acid Aqua Booster - contains low molecular weight hyaluronic acid that works deep into the epidermis, hydrating the lower layer of the skin while plumping it. This product is ideal for dehydrated skin in need of an immediate hydration boost. This multi-tasking formula is perfect for all skin types as it leaves the skin feeling light.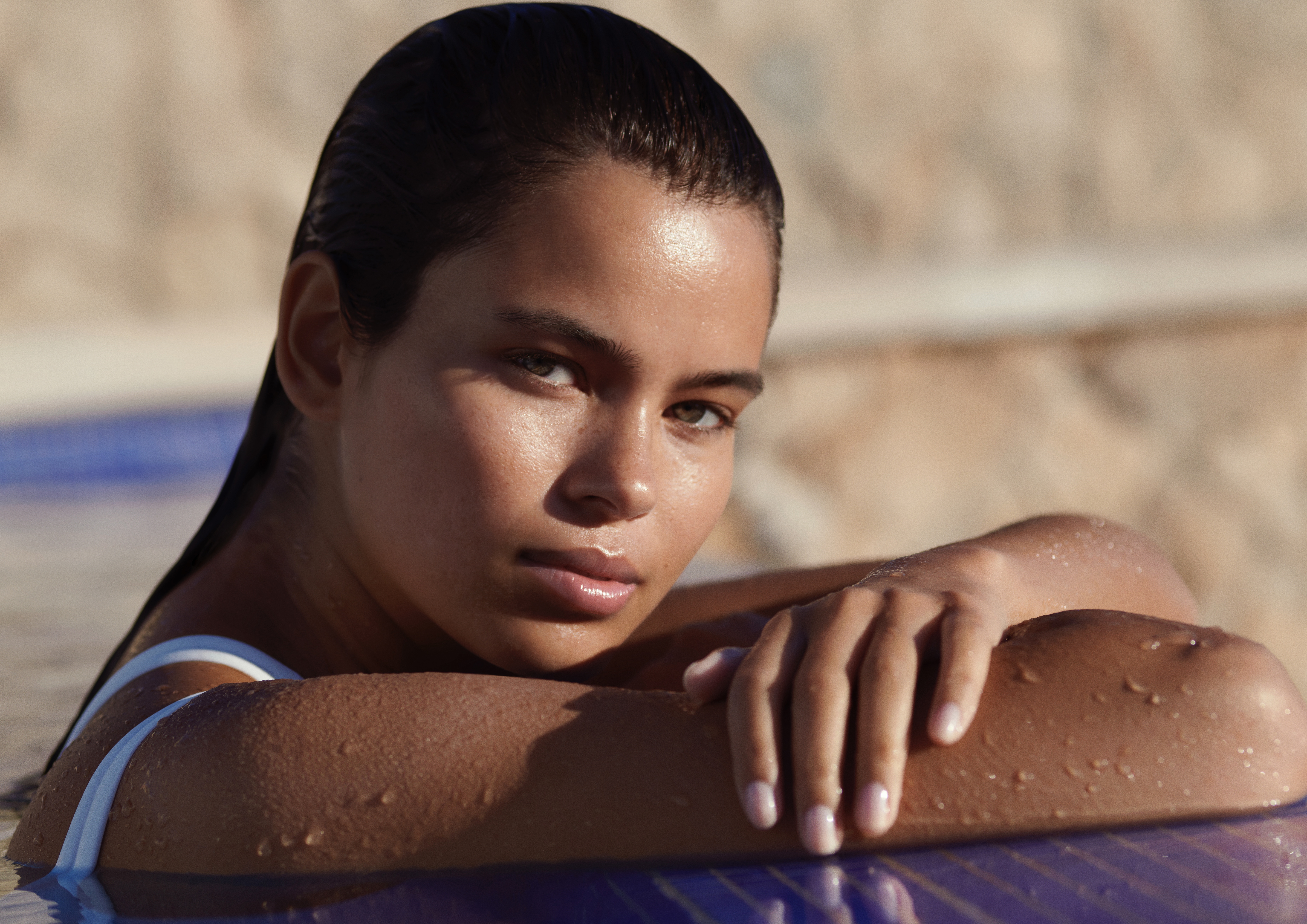 From the French brand BIOLOGIQUE RECHERCHE we recommend the following cosmetic products:
VIP O2 line. Thanks to the added O2 (oxygen), the skin is rejuvenated, moisturised and protected from environmental influences.
Lait VIP O2 is a light cleansing milk against pollution, which cleanses the skin 100%. Its deep cleansing action protects the skin from environmental influences. The skin regains its natural radiance.
Masque VIP O2 - thanks to the O2 contained in the mask, it neutralises pollutants to prevent them from reaching the skin cells. The mask also contains a moisturising active ingredient that nourishes the skin. The skin is rejuvenated, moisturised and has a natural glow.
Biosensible line. Relieves skin sensitivity, redness and itching. Provides comfort to the complexion.
Masque Biosensible - relieves skin sensitivity, irritation, redness, provides immediate relief and comfort for sensitive skin. Strengthens the skin barrier and relieves itching. The skin becomes moisturised, soothed and less reactive to environmental irritation. Excellent for use after prolonged exposure to sunlight.
Emulsioin Gel Biosensible - soothes the skin and relieves discomfort. Thanks to soothing and moisturising active ingredients, the emulsion provides immediate relief to fragile or weakened skin, restoring a radiant skin tone. Recommended for sensitive, reactive or damaged skin
Emulsion Gel Biosensible S.R. - instantly soothes and relieves skin discomfort while smoothing its surface texture. This gel works in two phases, both to reduce skin sensitivity and to reduce imperfections. The complexion becomes smooth, soothed and slightly matte. Recommended for sensitive skin with low sebum production.
PIGM400 line. Reduces existing signs of pigmentation and prevents the formation of new ones. Brightens and gives a natural glow throughout the day.
Serum PIGM400 - specially formulated to reduce the appearance of existing dark pigments and prevent the formation of new ones. Brightens and evens skin tone.
Creme PIGM400 - reduces the signs and intensity of existing pigmentation, prevents the formation of new pigments, protects, smoothes and evens skin tone. The skin is instantly illuminated and radiant.
From other collections:
L'eauxygenante - a hydrating, antioxidant and oxygenating "mist" that stimulates the epidermis and protects it from environmental influences. Perfect for use in summer before applying foundation or over make-up.
Serum Oligo-Proteines Marines - renews and evens skin tone. Excellent for reducing dark circles in the eye area.
Serum Liposmose - specially formulated for the tired eye area. Provides a long-lasting solution by targeting bags of excess water and fat under the eyes, as well as bags caused by skin ageing. The serum formula contains active ingredients with triple osmoregulating, lipolytic and firming effects that help correct and protect the skin from external factors, restoring radiance to the eye area. Day after day, puffiness is reduced, eyes are rejuvenated and the eye contour is smoothed.
Serum Amnotique VG - an unbeatable source of hydration that ensures maximum moisture levels. Its hydrofixing active ingredients help cells to take up water and lock it in the outer layers of the epidermis, preventing the discomfort of dry skin and providing long-lasting hydration.
Serum Grand Millesime - contains a wealth of regenerating active ingredients that slow the signs of ageing, smooth wrinkles and fine lines and tone the skin. Perfect for reducing the first signs of ageing, protecting and moisturising the skin.
Masque Visolastine+ - improves the skin's moisture level. This mask gives the skin a soft and comfortable feeling throughout the day.
Masque Bain De Plants - suitable for use on the face, body and roots of the hair. It contains sebum-regulating and purifying active ingredients that help to remove excess sebum from the epidermis and scalp, without irritating or drying the skin. The skin is balanced and purified.
Protection U.V.25/50 - recommended for everyone. This SPF has no added chemical filters, so the skin is given maximum protection and the sun's rays are repelled from the skin's surface.
*Biologique Recherche products can be purchased at our salon or by placing an order.